YouTube Bulk Uploader for the Lazy
YouTube Bulk Uploader for the Lazy is a software application designed and developed by GinkoSolutions.com. YouTube Bulk Uploader for the Lazy provides the user with the unique ability to automatically tag videos and upload to YouTube in Bulk! The software provides bulk editing of videos (Tags, Categories, Descriptions, Titles etc) and provides a simple to use interface for uploading and managing videos. The software optionally 'tags' each physical video, you can then freely move and rename the physical files and the software will be able to detect where they are at all times. All of these actions can be performed offline, so an internet connection is not required until you're ready to upload to YouTube.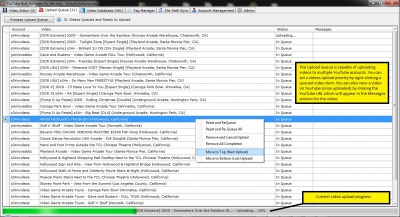 YouTube Bulk Uploader for the Lazy vs Standard YouTube Website Submission
Feature List Comparison Table

| Feature | YouTube Bulk Uploader for the Lazy | Standard YouTube Website Submission |
| --- | --- | --- |
| Video Uploading in Bulk | Yes | Yes |
| Supports All Video File Types | Yes | Yes |
| Video Resuming in Bulk | Yes | Limited |
| Multiple Account Support | Yes | Limited |
| Video Auto-Tagging | Yes | No |
| Optional Video Content Management (Video CMS) | Yes | No |
| Upload Queue Re-Ordering | Yes | No |
| Offline Video Tagging and Preparing | Yes | No |
| Import/Export Videos from CSV | Yes | No |
| Set Pre-Defined Video Tag Lists | Yes | No |
| Spintax/Text Spinning Support | Yes | No |
| Wikipedia Integration | Yes | No |
| Automated Targeted Keyword Generation | Yes | No |
Software Features
Quick Feature List
Supports ALL YouTube supported video file types. MP4, MOV, MKV, MPEG, 3GP, AVI and more
Allows bulk editing of video titles, descriptions, tags, categories, privacy and more
Supports multiple YouTube accounts/channels
Ability to copy video information between multiple accounts
The Tag Manager allows you to pre-define a set of video tags to tag videos faster!
The Upload Queue allows to you prioritize your resumable video uploads
The Video Database allows you to edit and manage video information
File Path Sync allows you to scan your hard drive for video files which have been moved or renamed
All features can be performed offline (Apart from uploading!)
YouTube video titles, descriptions and video tags are automatically created using the videos file name!
Import and Export all video data to and from the application using CSV files
Automated YouTube targeted keyword generation support
Wikipedia integration for generating insightful and unique video descriptions
SPINTAX support ensures randomly generated video titles and descriptions
Social media auto-sharing. Share to Facebook Feeds, Groups and Pages
See more at: https://ginkosolutions.com/youtube-bulk-uploader
Offline Ability
The offline ability of the software is truly unique! Preparing videos to upload can be a cumbersome and often quite tedious process. Unlike the YouTube default upload mechanism, you can fully prepare your videos for upload using this software! Simply drag and drop 1, 10 or 1000 videos on to the user interface and the software will automatically prepare default video information based on the video file names. You can then optionally add further video information at your own discretion. If sitting on a train or a passenger on a plane, you can fully prepare your videos for upload! When you next visit a WIFI hotspot, work or home, simply hit the upload button!
Video Content Management System (VCMS)
YouTube Bulk Uploader for the Lazy boasts an intelligent, and optional, Video Content Management System (VCMS). In short, a CMS is like a filing cabinet. The ability to pull a requested document from a filing cabinet, without sifting through the entire cabinets contents, is paramount. This feature is entirely optional and can be toggled on or off in the settings tab at any time.
If this feature is enabled, the software will add each video to the internal database and also physically tag each video with a unique database ID. If the physical video files are moved around on the local computer system, the software can track these movements while keeping the database up to date with the current physical location of each video file.
As previously mentioned, enabling this option will allow videos to be added to the internal database. When using the internal database, you can edit videos at a later date and also sync these changes with YouTube. You can also re-upload videos and remove videos from the database.
Import/Export to and from CSV Files
Interoperability is a vital component within any system. Importing from a CSV allows video data from other similar applications to be transferred into this one. The opposite notion also applies. CSV is a universal plain-text file format which is understood and can be read by all computer systems and devices.
Video Resuming
Resuming video uploads is particularly important when dealing with: Poor internet connections, Public Wifi Hotspots and/or large video files. For example, if a video has been 20% uploaded and the internet connection becomes unresponsive, the application will continuously check for an internet connection before re-attempting to upload the remainder of the video. Unlike the default YouTube Upload Web Interface, If a video is partially uploaded, you are able to stop the video at any point and upload a different video in its place. All partial uploads are stored for each video file in the upload queue, so even though an older video uploaded to 20% and a few videos have been uploaded since, you can STILL resume this older upload from 20%!
Video Description SPINTAX
New in version 3.0! We have added the ability to make all Videos Title AND Video Description fields unique using Text Spinning. For example, placing the following text anywhere in your Video Title or Video Description: "Hello my name is [Bob|Joe|Dave|Sam|Ashley]" will generate a random result for each upload! Learn more about SPINTAX and Wildcard Tags.
Wikipedia Integration
New in version 3.0! Wikipedia integration allows users to instantly generate insightful video descriptions from Wikipedia using one click of a button! You can right click on any Video Description, type in any keyword, hit enter and the first paragraph from the matching Wikipedia article is inserted into your Video Description! Article disambiguation is also supported!
System Requirements
Microsoft Windows Users Compatible with all of the latest Windows operating systems, this includes: Vista, 7, 8, 8.1, 10 and Windows Server 2008 and higher.
Apple MAC Users In order to use this software on an Apple MAC type system, you will need to emulate this native Windows software. Once you perform one of the following steps, you can run almost any Windows software on your MAC! The following options offer different solutions on how to achieve this:
1. BootCamp. It's an official Apple product which will allow you to use Windows software on a MAC. More Info: https://www.apple.com/support/bootcamp/ [1]
2. Virtualize a Windows environment using VMWARE (or similar software). VMWare has a free version which is capable of doing this. More Info: https://www.vmware.com/products/fusion [2]
3. Parallels. Similar to BootCamp, does not require restarting the computer. More Info: https://www.parallels.com/products/desktop/ [3]
4. Wine. Similar to BootCamp, just not developed by Apple. More Info: https://www.davidbaumgold.com/tutorials/wine-mac/ [4]
Security and Privacy
YouTube Bulk Uploader for the Lazy utilizes the official YouTube V3 API and the OAuth 2.0 Protocol to achieve it's interfacing with YouTube. Simply put, OAuth enables the user to keep their user details, such as passwords, 100% anonymous! When adding multiple YouTube accounts to this software, the only requirement is a unique username to refer to this account. Once the YouTube account has been added to the software, a web browser window will popup asking for authorization for this software to upload to your YouTube account. No password required! Never use third-party software which requires revealing your password!
Operating Instructions
Please view our YouTube channel links below for videos on how to use the software:
https://youtu.be/dr0V_WneodU - Full Software Demonstration
https://youtu.be/jmorFztIOL8 - Quick Software Demonstration
https://youtu.be/6EBdeY82yMM - Account Management (Now called Channel Management)
https://youtu.be/IkI3doMCSYw - Video Editor
https://youtu.be/iwuW3OY85p8 - Video Database
https://youtu.be/0RVUetGCBMQ - Tag Manager
https://youtu.be/ofQKZJSLvNM - Upload Queue
https://youtu.be/_oo7XniSbdw - File Path Sync
Troubleshooting
Please view our YouTube Bulk Uploader for the Lazy Troubleshooting Guide for solutions to typical troubleshooting scenarios.
FAQ
Please view our YouTube Bulk Uploader for the Lazy FAQ for a list of common questions and answers regarding the software.
Purchase
Order Software Online
You can purchase YouTube Bulk Uploader for the Lazy by visiting the official product page here: https://ginkosolutions.com/youtube-bulk-uploader/ [5].